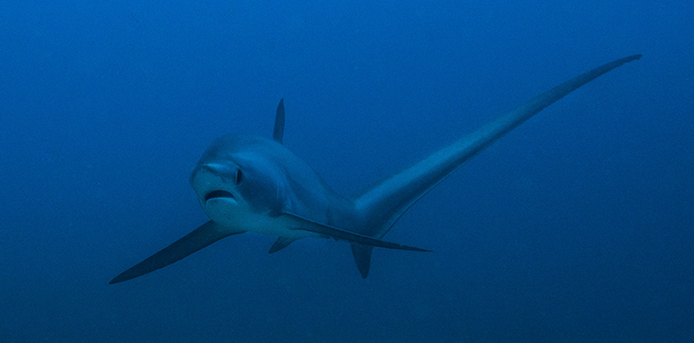 The Thresher Shark dive experience offered in Malapascua is one of the most unique places to dive in the world. Thresher Sharks, or Fox Shark, have a distinctive long thresher-like tail that can be as long as the shark itself. They also have large eyes to help them see in the deep dark depths where they live in tropical waters. In the morning, Thresher Sharks will come more shallow to a natural cleaning station at Monad Shoal around 30 metres. It is at this unique site that recreational divers can see these normally elusive sharks on nearly a daily basis.
Devocean Divers does a Thresher Shark dive every morning leaving Malapascua Island around 5am. The boat trip to Monad Shoal, about 25 minutes away, makes for a great place from which to see the sunrise and have a coffee. It's at this early hour when the Thresher Sharks are still at Monad Shoal and the light is not yet too bright for its big sensitive eyes.
These sharks can grow up to 6 meters, including the tail. They feed on schooling fish and squid. Their long tail is actually used to stun their prey. They first use the long tail to gather the school of fish nicely together and then it will use it's tail to whack into the school, stunning a few prey that it then feeds on.
The dive site that the sharks are seen on is called Monad Shoal. It's an underwater island that goes from 14 meters all the way to more than 200 meters. The natural cleaning stations are at 28 meters. Nitrox is recommend at this dive site as it doubles your bottom time and therefore, your chance to see more sharks.
So why does the Tresher shark come to Monad Shoal? In the world and the underwater world it is common practice that people and things help each other out. Especially if it benefits both parties. It's nothing different with the Thresher shark. It comes to the reef to let small reef fish (wrasse) eat dead skin and parasites from its body. They also clean small wounds, the sharks gills and even they even go inside the mouth to nibble away left overs that are stuck between the sharks teeth.
Sometimes when going to the dive site you can see the shark breaching the surface. They do this because when one of the cleaner fish gets to deep into the gills it irritates the shark. At first it tries to shake the fish out but if all else fails it will breach and hopefully the small wrasse fish will get hurled out at some point.
Not only the Thresher sharks come to Monad Shoal to get cleaned. We often also see eagle rays (in formation) and Oceanic Manta rays!
Do keep in mind that it is mother nature and there are no guarantees to see the shark. Sometimes there is the occasional person or group that is just unlucky. There is no fixed pattern that enlarges that chance for you to see them. Being there first or arriving as last boat makes no difference in chance to see them.
If you are an Open Water diver then you will be required to do a Deep Adventure Dive course with one of our PADI instructors. Alternatively, you can complete the Advanced Diver course for which the Deep Adventure Dive is a part of.
There are a few guidelines for those that which to see the Thresher Sharks. If you do not follow these guidelines, you will not be permitted to continuing diving with Devocean.
Do not use cameras with strobes and flash!
Do not sit, stand, kneel or touch any part of the reef.
Be aware of your fins and try not to damage the reef or kick up sand.
Do not make sudden movements, stay calm and control your buoyancy.
Do not cross the rope line marking the no go zone.
Do not attempt to follow the shark.
Do not attempt to touch the shark.
Do not use any noise makers at the dive site.
Do not disturb other divers at the dive site.
Do not use reef hooks or stainless pointer sticks at the dive site.
As with all sharks and other endangered species in our world the numbers are gradually declining due to over-fishing, fining, greed and general lack of respect toward life on this planet. The good news is Monad Shoal has been declared a Shark and Ray sanctuary and the dive shops of Malapascua have united and set up a protection plan to try and aid in the protection of the sharks at Monad shoal. For every dive made at Monad Shoal your more or less expected to contribute 50 peso to the voluntary plan.