The world has come to a halt. Wherever you are in the world, you are facing the same issues: confinement, travel bans, and no scuba diving. DevoceanDivers Team in Malapascua is facing the same and is getting together (with social distancing) to list the top 3 things to do during quarantine, if you are a scuba diver.
Review your dive theory with the Padi elearning manual that you received during your last course.
During your Open Water Course in Devocean Divers (or any PADI divecenter), you were offered the option to get the elearning manual online instead of the paper manual. You have then received an email from PADI, redeemed the code and created your PADI profile. This allowed you to access your PADI library in which your Open Water Manual is located.
As the Open Water Course is an intense 3-4 days Course with about 6 water sessions, you have received a lot of information in a short time. It can be a good idea to go back to the basics with time on your hands and scroll through the material that you have received along with your Open Water certification. You might be surprised to spot details that you had already forgotten!
Here are a few questions for which you might have to open your book to find the answers:
From what altitude does a diver need to start applying different rules for diving?
What is the ascent speed to not exceed?
How do you calculate your maximum bottom time, using a dive computer, rdp or e-rdp?
If your last course was the Advanced Open Water Course, you will find the e-learning manual in your PADI Library (except if you chose the paper book version). During you AOW Course, you were required to read the chapter Thinking like a diver, Deep Dive, Navigation Dive and 3 other chapters linked to the adventure dives that you chose to perform. Now is a good opportunity to discover the other chapters that are contained in the manual. Have a look at the Underwater Naturalist chapter, to learn more about the ecosystem and the reefs, scroll to Wreck Diving, to learn about the hazards of such dives, or go to the Drift Dive chapter to review safety procedures in dives with current.
And if those chapters stimulate your curiosity, and you want to know more about Deep diving, Night Diving, or Shark conservation, contact us to learn about the different specialties that we offer in Devocean Divers.
Take the next step and sign up for an elearning course
You are a diver, and dream of the end of the crisis to jump back in the water.
Now is the good time to advance your knowledge and step up into the league of advanced knowledgeable divers. If you are Open Water Diver, learn more with the Advanced Diver elearning course. If you are AOW diver, join the Nitrox divers and learn why you can stay longer and how to calculate your maximum depth.
The quarantine allows a good amount of time on your electronic devices, and you can access your PADI library on your phone, tablet or computer. Once you have the material, you are not yet committed to one divecenter. You can choose in the future where you will do the practical part of the course. Send us an email and we will give you all the details needed.
Check out some of our videos!
During quarantine, as we can't escape our home environment, we need to evade creatively! Our team here in Malapascua has been working on helping you refresh your skills… dry!

Do you remember how to control your buoyancy with the fin pivot or the hover? You will find fun videos on our Facebook/Instagram page to see skills demonstrated by our team with "special effects" allowing them to produce dry skills. As soon as we can get back in the water, it will be Devocean Divers' pleasure to show you those skills in the water again.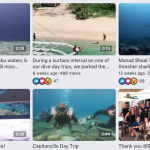 But if you are a more advanced diver, and that you are not interested in the performance of diving skills, have a look at our pictures and videos from our underwater world. And maybe you might become interested in learning the technique involved in the shooting/editing of underwater photos or videos. Let us know if you would like to know more we can put you in contact with our professional underwater photographer.
So if you are feeling bored at home, remember the top 3 things to do:
-open your PADI library to REVIEW
-signup for an advanced /Nitrox/other course to LEARN
-view fun videos to ENJOY being part of the diving community.
Stay safe and positive. We shall blow bubbles again soon.